Technical Details
---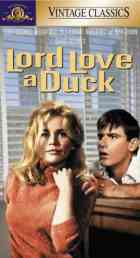 Director: George Axelrod

Production: UA

Writer: Axelrod, Larry H. Johnson, based on novel by Al Hine

Cast: Roddy McDowall, Tuesday Weld, Lola Albright, Martin West, Ruth Gordon, Harvey Korman, Sarah Marshall, Lynn Carey, Max Showalter, Donald Murphy, Judith Loomis, Joseph Mell, Don Frazer, Martine Bartlett, Jo Collins, Martin Gabel

Running time: 109 m.

Revue: "And once again we are able to observe the impeccable talents of Roddy McDowall." — Judith Crist, of The New York Herald-Tribune

Just for fun: The only thing bleaker than the movie version is Hine's original novel. 'Tis unfortunately out of print so support your local library!

Even more fun: Want to see what a real mollymauk looks like?
---