- - - - -
By George Haddad-Garcia
- - - - -


He's been an actor since age five, and though he looks under 40 and has a boyish appeal, Roddy McDowall has spent nearly half a century in show business!
He has become one of the most in-demand character actors on both sides of the Atlantic, and has a large cult of fans. There are those who remember him as a child actor, opposite natural wonders like Lassie, Flicka and Elizabeth Taylor. He has worked with top talents, form John Ford to Liz Taylor (his good friend; they worked together again in "Cleopatra") to Barbra Streisand (Roddy played an aging chorus boy in "Funny Lady").
The charming actor, one of Hollywood's movie buffs himself, recalls, "I started acting at a ridiculously young age. I guess I had a certain amount of talent and a boyish – rather babyish – charm, and my mother was determined that this prodigy of hers would be a miniature superstar. She was an intelligent woman, not the sort of virago the usual stage mother is pictured as being, and I went along with the whole thing eagerly because it seemed the thing to do. I don't really think I missed a thing, not having that so-called normal-goofing-off childhood."
Though a Britisher by birth (he still has an accent, and therefore made a most civilized-sounding ape in "The Planet of the Apes" series), and he was evacuated to the U.S. during the blitz in London, with a contract at Fox. Once childhood stardom had run its course, Roddy found himself typecast and not getting the types of roles he desired. "I always looked younger than I am, and the last films I was offered, then, all had the wide-eyed mentality of a 12-year-old nitwit. They were just vehicles to use up whatever name I had. I decided to take things into my own hands."
So he left Hollywood when in his early 20's. But – unlike, for instance, Ms. Taylor – Roddy didn't find the studio system oppressive. "The paternalistic system at MGM was wonderful for those of us there. It was an all-encompassing home. We formed beautiful friendships with lovely people."
Roddy left just as the golden age of movies was ending. For the next two decades he based himself in New York City, in a more mature, challenging climate. He did off-Broadway, he did Shakespeare, and he toured, appearing in plays like "No Time for Sergeants," "Julius Caesar" and "Escapade." During the golden age of television, he co-starred in some 100 TV dramas, and he won the highest awards in both mediums – the Tony on Broadway and the Emmy for Television.
Additionally, the intelligent actor developed his hobby of photography into a second career. His work was featured in "Life," "Look," "Harper's Bazaar" and other magazines, and his celebrity photos were made into a memorable book in which the photos were accompanied by celebrities' comments on the celebrities pictured. He continues to do photography on a free-lance basis for top magazines. "At first it was difficult to make people think I was serious about it," says the cheerful perseverer.
Today, McDowall lives in California and alternates motion pictures (his latest role is the bitchy gossip columnist in the Agatha Christie thriller, "Evil Under the Sun"), a television (he has done late-night comedy shows with the likes of Steve Martin, etc.) and theatre (he's said to be looking for a new Broadway project, and may go Shakespearean again, in his friend Liz's new repertory company; because she cherishes her privacy, he will not speak about Taylor at length).
For a long time, Roddy was automatically connected in the media's and the public's mind with Lassie. Then he became associated, in a less visible way, with another mammal. "I suppose I officially ceased being Lassie's-brother when "Planet of the Apes" came out and became such a big hit. I loved my part in that. The makeup was fantastic, and once again, it was a matter of interpreting a character and personality, not just a fright-wig sort of thing. The whole project was harder work than anything I'd done, but also more rewarding."
In all, he starred in four of the five "Apes" movies, and in the TV series based on them. Horror and the offbeat are not alien to Roddy's roles, for he has played shocking roles in films like "The Legend of Hell House" and even a gypsy grandmother in Joan Rivers' "Rabbit Test."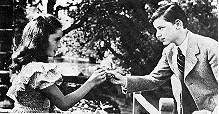 Child actors Elizabeth Taylor and Roddy
in "White Cliffs of Dover."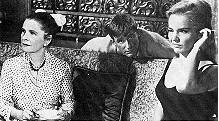 In "Lord Love A Duck" with Ruth Gordon
and Tuesday Weld.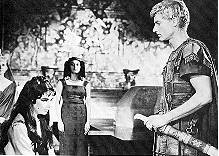 Roddy and Elizabeth Taylor continued
their friendship working together in "Cleopatra."




- - - - -


His most successful film as a juvenile was
"How Green Was My Valley."

--------------------------------------------------------------------------------
"There was an outspoken conspiracy against my ever growing up."
--------------------------------------------------------------------------------

Other among his myriad films include "The Poseidon Adventure," "Bedknobs and Broomsticks," "The Longest Day," "The Loved One," "That Darned Cat" and the recent remake of "The Thief of Baghdad." But, typically, the forward-looking actor prefers not to dwell on his past accomplishments. "I've enjoyed doing "Evil Under the Sun' because the cast was splendid (including Maggie Smith, Peter Ustinov, Diana Rigg and James Mason) and so were the locations. It was fast-paced, and I'm a Christie fan, and I got to play a Hollywood gossip columnist – and I've always been interested in Hedda and Louella and what they did and wrote about."
But, like many "Hollywood Studio" readers, Roddy is a "compulsive collector," and one of Hollywood's acknowledged resident experts on the history of the cinema (he has often hosted special TV showings of classic movies, and like Debbie Reynolds, he is pushing for a comprehensive museum of Hollywood lore and artifacts). His collection includes film ads back to the 1930's and fan magazines dating from nearly the beginning, 1912. His collection, once merely, "fun," is now very valuable, and would make a wonderful beginning for a projected museum.
"What Hollywood has created and given us is too valuable to let be destroyed and forgotten," he feels. "It should be preserved. It's amazing how much has been allowed to slip out of responsible people's fingers, and how much commercialism has taken over what used to be a real art." He is, however, still a film fan, and finds outstanding many of today's motion pictures, allowing that, at any given time, a majority of Hollywood's output is non-classic. "When we think back, we remember the classics, but most of the films weren't classics." Still, he hopes that younger generations of fans and collectors will continue to help preserve and enhance Hollywood's past through memorabilia and collections.
Looking forward to the future, Roddy declares he is just as busy as he would like to be; he still has offers from each media, is still finding challenging movie roles, and has time left over for his many friends and for travel and enjoying his personal life. He has so many friends that Ruth Gordon once declared, "He has more friends than anyone I know. No one has such a following, except maybe Queen Elizabeth."
The smiling, youthful bachelor allows, "Life may not be Hemingway's moveable-feast at all times, but it's been so good to me that I really have very little to complain about."


---
HOLLYWOOD STUDIO Magazine
August 1982