The addlepated movie fan
---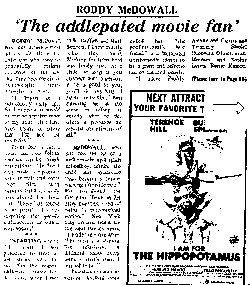 RODDY McDowall has been acting almost all his life. He is the child star who grew up gracefully, making nonsense of the saw that they become either overweight, overwrought -- or both.
"I began at a ridiculously early age. So I suppose it would be fair to say that I'm not just yesterday."
Three dogs, a cat, a horse and two fish as co-stars can be tough competition. "In fact I only made four pictures with animals and more than fifty with humans, but I'm mainly remembered for those four. Lassie of course is so popular it's not surprising that people still associate me with it even today."

"STARTING when I did meant I was priveleged to meet all the heroes every kid has. I'm the original addlepated movie fan. At twelve when I met D. W. Griffith and Mack Sennett, I knew exactly who they were. Working for John Ford was lovely too. As a child, so long as you connect with a person, if he is good to you, you'll do anything. I never remember him directing me in the sense of telling us exactly what to do, which is probably the greatest compliment of all".

McDOWALL, who still has the air of a well-brought up English schoolboy, admits the child star syndrome "can become a demon walking alongside you." He abandoned the Company Town in his early twenties, tired of being "a preconceived notion." New York City became home for the next twenty years. "I made the move when they were just starting live television. A different show every week that's where I learned to act."
Producer-writer George Axelrod once called him "the professional's best friend," and McDowall unashamedly admits to be a great and eclectic fan of talented people.
"I adore Freddy Astaire and Cagney and Tommy Steele! Horowitz, Olivier, Ethel Merman and Sophia Loren. Buster Keaton, Laurel and Hardy, Cary Grant, Peter Ustinov. The best of the bunch can do something so effortlessly you think you can do it, too. I know I can do what Astaire can do until I stand up on my feet ... and fall flat on my face."

FOR Evil Under the Sun, Roddy McDowall gets a chance to work with some of the artists he admires most and play a character that could have walked out of the pages of Hollywood history.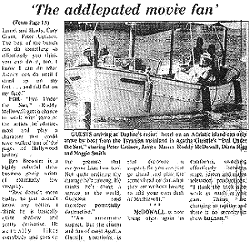 Rex Brewster is a highly colorful show business gossip writer of extremely low integrity.
"Rex doesn't mean badly, he just doesn't know any better. I think he is basically quite shallow and pretty derivative. He actually likes everybody and goes on the premise that everyone likes him too. Not quite realizing the damage he's causing. He thinks he's doing a service to the world. Guileless and therefore potentially destructive."
"An automatic suspect. But the charm and fun of most Agatha Christie situations is that everyone is suspect. So you can just go ahead and play the scenes head on for what they are without having to add your own dash of Machiavelli."

McDOWALL is now living once again in California, switching effortlessly between stage, screen and major television productions. "I think the trick is to work as much as you can. Things are changing so rapidly and there is no security in show business."

---
RM Tribute: Frames | RM Tribute: No Frames | Contact Us | Musgrave Foundation