McDowall going strong
after 48 years as an actor
by Nancy Mills
reprinted from The Register
---


LONDON - Roddy McDowall is such a versatile actor that a lot of people aren't quite sure who he is. A short, slight, soft-spoken Englishman who made his name back in 1943 with "My Friend Flicka" and "Lassie Come Home," McDowall has been a fixture in the American entertainment business for 40 years.
His biggest success came as the scholarly chimpanzee Cornelius in the five popular "Planet of the Apes" movies. However, when the series of the same name flopped in 1974, McDowall returned to the list of not-quite-bankable-but-top-notch character actors.
Now he's continually popping up on the big or little screen, lending class to whatever the project, be it a "Fantasy Island" episode, a TV movie like, "The Memory of Eva Ryker" or the next Agatha Christie film, "Evil Under the Sun," due out in early 1982.
Dressed in white flannels, navy jacket and red socks for his part as a loudmouth Hollywood gossip columnist in the Christie film, McDowall is sitting in the Lee International Studio cafeteria trying to be inconspicuous.
"My character is a tremendous extrovert, a very outlandish creature," he explains. "He's the sort of person you hope you never have to have in your home."
McDowall himself is just the opposite. He would make a perfect houseguest. Although he considers the "real" Roddy McDowall to be "very dull," he's like a chameleon. He can turn himself into whatever character is required.
"With most actors," McDowall says, "the work they do is more interesting than they are themselves. One of the big problems, especially after a period of years, is that it's impossible for the public to separate the two. People expect actors to be as glamorous as the roles they play.
"I'm not glamorous or provocative. I'm just an actor doing a job, and that makes me quite an abnormal, I mean normal, person."
McDowall laughs at his slip of the tongue. For an hour he's been making a great effort to play the role of Mr. Dull. He started off the conversation with: "I'm a bad interview. When someone's been around for as long as I have" - 48 of his 53 years have been spent in show business - "what new can you say about them?"
McDowall admits he's trying to keep everything low key because, "I always get unnerved when I see an interview about me." He lights yet another cigarette and asks mischievously, "Now, how are you trying to trap me?"
He grins. Blessed/cursed with a youthfulness that allowed him to play ingenue roles into his late 30s, McDowall looks more like a world-weary little boy than someone who will soon be celebrating his golden anniversary in show business.
"Acting is a profession that likes to slot you into a category and then take you for granted," he says. "I feel my task is to try and jolt that." He moves easily between television and films, and makes a point of choosing parts as different as possible.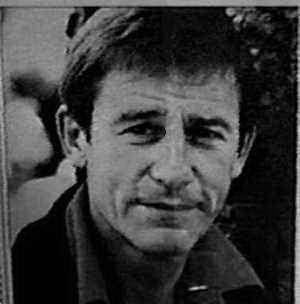 His TV repertoire of villains is vast. "Most guest-starring parts on episodic television are bad guys," he observes, "or people with problems. The hero has to catch the villain or solve the problem.
"In the 'Hart to Hart' pilot, Stella Stevens and I were villains. In the 'Trapper John' pilot, I was a revivalist minister who was a con man. In the 'Buck Rogers' pilot I was an egomaniac ruler of some mythical place."
Is the secret of launching a successful series including McDowall in the pilot? "No," he regrets. "I've done a lot of pilots that haven't made it." And his own "Planet of the Apes" TV series flopped during its first season.
"I especially enjoyed doing that series," says McDowall, "and I'm really sorry that the show didn't last. My view is that it never found its audience. It should have been on at 7 p.m. on a Saturday or Sunday, but it was scheduled opposite the second season of 'Sanford and Son.' It didn't beat 'Sanford,' which I gather after the fact it was designed to do."
Despite disappointments, McDowall has never considered leaving the business. "It started so young that acting was the only thing I really knew or had been trained for," he explains. "My mother had wanted to be an actress, you. So she enrolled me at drama school at a very early age, and it worked.
"I wouldn't have missed it. It was an extraordinary experience. But it was a lot to lumber a child with. I started modeling when I was about five, doing ads for Rice Crispies and Colgate toothpaste. I made my first film ("Murder in the Family") when I was just eight. It was wonderful.
"But I had a lot of difficulties when I was in my teens. When you're growing up you have to find out what you want to do and why and how you to do it, even if you're already doing it - if that makes any sense. Acting as a child doesn't bear any relationship to acting as an adult."
After a dozen years in Hollywood, McDowall moved to New York to do theater work and live television. This is where he says he really learned how to act. He also learned how to use a camera, and he developed a second career as a photographer.
During the 1960s, half his professional life was spent doing articles for magazines like Life and Look, record album jackets and book covers. In 1966 he published a book of portraits, "Double Exposure," which focused on his fellow actors. But when Life and Look shut down, McDowall's photography income virtually dried up.
"I still take a tremendous amount of photos," he says, "and I'll probably do another book. I think actors should have other interests to take up the slack and be a buffer."