(HOLLYWOOD) Acting, say Roddy McDowall, "is like fruit picking. It comes in bunches and it's feast or famine."
But thanks to the popularity of automobile tape decks, the 63-year-old McDowall now has a rewarding and lucrative way to keep working between gigs.
He reads books. Not to himself. McDowall is part of the growing corps of actors making books on tape. Among others in the burgeoning field are Julie Harris, Michael York and Joan Rivers, to name only a few.
"For an actor, it's great fun to record books," says McDowall, who has done 26 so far and is now promoting a vocal version of the newly discovered L. Ron Hubbard science-fiction novel "Ole Man Methusalah" (Bridge Audio, $15.95). "You get to play many characters and do a host of voices."
McDowall had particular fun on his newest tape because it included seven short stories with myriad colorful characters, including a metallic beast from a faraway galaxy.
"The advantage for me is that it's a completely different kind of acting exercise," he says. "The closest thing is the old days of radio when you could trigger an audience with your voice alone."
The audience for McDowall's tapes and most others is primarily made up of drivers stuck on gridlocked freeways and expressways around the world. But truckers like the oral books, too, with thousands of tapes sold from racks at truck stops.
The English-born McDowall, who's making a TV version of Sidney Sheldon's "Sands of Time" with Deborah Raffin and Amanda Plummer, has always liked a variety of creative outlets.
He started acting so young in films like "My Friend Flicka" and "Lassie Come Home" that he eventually found himself wondering if he could ever do anything else.
That's why the youthful McDowall turned to photography in the late 1940s.
"I liked photography very much when I was in my late teens," he says. "I had started acting so young that when I went to New York to study acting in my early 20s and worked in TV, I wanted to find out if I could do something else."
It turned out he could. McDowall has published two volumes of celebrity photos, each picture accompanied by a passage written by an acquaintance of the subject.
"For me, the books are very important," says McDowall, a confirmed bachelor who lives in LA's Studio City district. "I find it's very difficult to be taken seriously in fields different from your own. People believe you're a dilettante. But I shoot celebrities because I move in the field of theater and the arts."
The multitalented McDowall has produced and directed films like "Planet of the Apes," "The Devil's Widow" and "Overboard," besides acting in pictures like "The Poseidon Adventure," "Funny Lady" and "The Longest Day." His photos have decorated the covers of record albums by Barbra Streisand, Johnny Mathis and Judy Garland and made the cover of magazines like Life, Look, Paris Match, Vogue, Cosmopolitan and Harper's Bazaar.

McDowall refuses to pick a favorite activity. "They all fulfill various appetites of mine," he says. "Very different occupations exercise very different creative muscles. They all have different dilemmas. But the hard thing in all areas is the commercial aspect."
McDowall has no trouble, however, naming a favorite cause. All proceeds of his photography books go to the Motion Picture and Television Fund, which runs a home for retired actors, with the motto "We Help Our Own."
"There's no place that's more fun to visit," he says. "You see these marvelous faces there of people who were favorites in your youth."
But most proceeds from "Ole Man Methuselah" and the three other Hubbard books McDowall has taped do not go to the actors' home.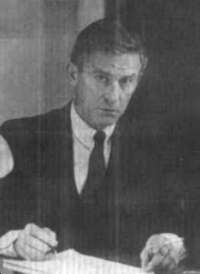 ABOVE: Roddy McDowall in the 1986 thriller "Dead of Winter."
BELOW: Forty-three years earlier, McDowall co-starred with Lassie in the classic "Lassie Come Home."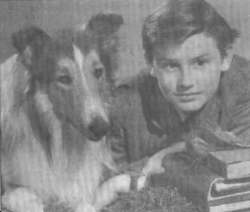 They don't go to the Church of Scientology founded by Hubbard, either, McDowall's aides insist, going instead to the L. Ron Hubbard Foundation, which uses them to promote the science-fiction Hubbard wrote before he penned "Dianetics" and founded the controversial church.
"These books have nothing to do with 'Dianetics'," McDowall insists. "They're just good adventures, filled with wonderfully colorful characters. I do them because I find the material evocative and eminently actable. The stories are good and fun to do."
There's even the hope that his reading may spur some other folks to read, too, rather than watch TV.