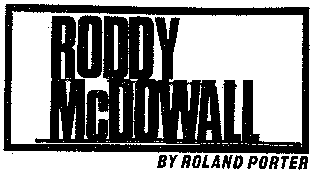 In the Motion Picture Herald-Fame Poll of 1944—based on the opinions of movie exhibitors all over the United States—a wide-eyed teenager named Roddy McDowall was chosen as Star of Tomorrow.
Tomorrow is here, and the prediction has undoubtedly been fulfilled. Roddy's current stellar portrayal is as the demented Mr. Pimm opposite Jill Haworth in the Seven Arts horror-thriller "IT," which Herbert J. Leder has written and is producing and directing, but the young actor has been proving his star quality in major films for a number of years now.
Born on the 17 September, to Thomas and Winifred McDowall in London, and educated at St. Joseph's School there, Roddy made his film debut at the age of eight in "Murder In The Family."
During the next four years he appeared in a number of English motion pictures until, in 1940, his work so impressed Darryl F. Zanuck -- whose young star, Shirley Temple, was proving such a success -- that Roddy was brought to the United States and signed to a long-term contract with Twentieth Century-Fox.
His first picture in Hollywood was "Man Hunt." Then the young English boy was given the role in "How Green Was My Valley" which made critics and audiences alike realise that here was a Star of Tomorrow in the making.
For a few more years Roddy continued to do very young and wistful characters in films such as "Confirm or Deny," "Son of Fury," "On the Sunny Side of the Street," "The Pied Piper," "My Friend Flicka," "Lassie Come Home" and "The White Cliffs of Dover."
But as he grew out of this type of role, he grew interested in behind-the-camera techniques and the actual making of motion pictures. Soon he was doubling as both actor and associate producer for such films as "Rocky," "The Big Timer," "Tuna Clipper," "Black Midnight," "Killer Shark" and "Steel Fist."
Looking for a complete change of pace, Roddy decided to head East and attempt a new career on the stage. His first appearance was in "Young Woodley" in 1953 at the Westport Playhouse in Connecticut. As a result of this fine performance, the young actor was signed for the New York City Centre Theatre revival of George Bernard Shaw's "Misalliance," in which his role of the spoiled upstart was a radical change from the type of parts he had done earlier in films.
Thus began a new phase of Roddy McDowall's career, and he stayed in New York for nearly seven years, appearing in such plays as "Escapade," "Doctor's Dilemma," "No Time for Sergeants," "Good as Gold," "Compulsion," "Handful of Fire" and "Look After Lulu."

In his very early screen career, Roddy had played in the filmed version of "Hamlet," and in 1955 he was honoured with an invitation to play Octavius in "Julius Caesar" at the American Shakespearean Festival in Stratford, Connecticut. It was a role he was to essay so brilliantly in the motion picture "Cleopatra" a few years later.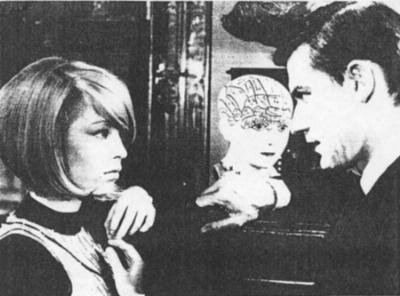 At the festival Roddy also appeared as Ariel in "The Tempest," a role he was to repeat in the 1960 television production of this Shakespearean classic by Hallmark Playhouse.
In fact, Roddy McDowall's name soon became as familiar in television credits as it was on the big screen and on Broadway. Among his many video assignments were "Billy Budd," "Suspicion," "Matinee Theatre," "Playhouse 90," "Twilight Zone" and a presentation of the life of Alexander Hamilton, for which he won an Emmy Award as the Best Supporting Actor of the Year in his portrayal of Hamilton's son. In 1963 he was nominated as best television actor for his performance on ABC's "Arrest and Trial" series.
In 1960 Roddy returned to Hollywood to co-star with Leslie Caron in "The Subterraneans," and although he now calls New York his home, he travels back and forth between the two coasts according to his stage and screen commitments. On Broadway he has starred in Jean Anouilh's "The Fighting Cocks" and in the Lerner and Loewe musical "Camelot." While during the past five years he has been starred in such films as "Midnight Lace," "The Longest Day," "Shock Treatment."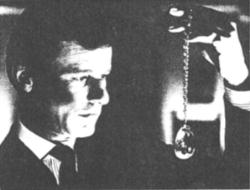 Roddy's spacious bachelor apartment-studio on upper Central Park West is filled with books and an extensive record collection, but it also houses hundreds of photographs he has taken of famous people.
Always interested in photography, Roddy zoomed to the forefront of the camera world with his sensational stills coverage of "Cleopatra," done while he was acting in the film. Since that time he has doubled up on most of his films as star and special photographer, catching shots of his fellow players which have appeared in major magazines throughout the world.
He was recently given an assignment by Life magazine to do a photographic coverage on Charlie Chaplin at work. He had already begun this in London before starting work in "IT" and will finish the layout as soon as he has completed his role in the film.