By MARIANNE EVETT
-------------
PLAIN DEALER THEATER CRITIC


The light tenor voice on the telephone sounds British as a cup of Earl Grey tea, although Roddy McDowall has lived in the United States for nearly 56 years.
During that time, he has made good films and bad Ė more than 135 Ė ranging from "Lassie Come Home" to "Cleopatra" to "Planet of the Apes" to his most recent, "Last Summer in the Hamptons." Not to mention more than a dozen Broadway shows and over 300 television programs.
For the moment, however, McDowall is back on stage for the first time since 1980, playing the dogged Inspector Hubbard in "Dial ĎMí for Murder," the revival of the 1950s thriller coming to the Palace Theatre on Tuesday.
It is a role McDowall never had thought about playing, but "Iím glad somebody did, because itís very enjoyable to do," he said. "Itís a very clever play, so well crafted by the author, Frederick Knott, who also wrote ĎWait Until Dark.í It is not a conventional mystery because the audience knows who the real villain is and then watches him get his comeuppance."
The villain is Tony Wendice, a tennis star who needs money and decides to have his rich wife Margot murdered so that he can inherit hers. He arranges an alibi for himself elsewhere during the time when his hitman attacks. But the killer himself is killed and Margot survives. Always quick-witted, Tony pins the murder on her but overlooks a tiny detail. A cat-and-mouse game then begins between Tony and the mild but persistent Inspector Hubbard, who refuses to give up until he knows the truth.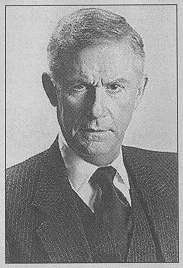 Roddy McDowall: "Itís hard to talk about a role that youíre in the middle of playing. Itís the sort of role Iíve never played before, but other than that, thereís not very much I can say."

-------------------------
In 1954, Alfred Hitchcock turned the play into a suspense film with Grace Kelly as Margot, Ray Milland as Tony and John Williams as the inspector. In the current stage revival, Tony is played by John James, best known for his work on the daytime soap "Search for Tomorrow" and the television series "Dynasty" and its spin-off "The Colbys." Nancy Allen, who starred in the "Robocop" movies and "Blowout" with John Travolta, plays Margot.
Directed by Edward Hastings, this production keeps the original period and its English setting. "It has to be in the Ď50s," McDowall said, "because [Tony] is a tennis player. In those days tennis players had to be amateurs and couldnít make money from tennis."
McDowall shows a very British reticence about his own role as the man who finally traps the villain. "Itís hard to talk about a role that youíre in the middle of playing," he said. "Itís the sort of role Iíve never played before, but other than that, thereís not very much I can say."

Yet he admits he "doesnít have a type" after all these years as a versatile character actor. Now 67, he began acting in films in England when he was 5. Then in 1940, he came to America.
"My father wanted my mother, my sister and myself to be here for the duration [of World War II]," McDowall said, "because he was going back into the service. We came to New York, and then by a fluke I got a role in ĎHow Green Was My Valley,í a wonderful movie."
The role led to his becoming a child star in movies like "Lassie Come Home" and "My Friend Flicka." It was "just doing your work, and I happened to enjoy it," he said. "One doesnít know itís the golden age Ė the [idea that it was a] fairy tale came later."
As McDowall grew older, he played a wide variety of featured roles in films and on Broadway, where he won a Tony Award for "The Fighting Cock" and originated Mordred in "Camelot." He has played villains, madmen and nice guys in comedies, tragedies, dramas and the occasional Shakespeare.
He has directed only once, "The Ballad of Tam Lin" starring Ava Gardner. But he has developed a second career as a photographer, taking sensitive portraits of his friends, show business celebrities. He has published four books of photographs and is working on a fifth.
"I started because I wanted to see if I could do something besides acting," he said. "I didnít choose to be an actor, I was put in it; I wanted to see how I would feel about doing something else. I found out that I liked doing both and so happily was able to forge a career in both areas."
The photographs serve instead of an autobiography for this reticent man, who answers a question about the filming of "Cleopatra," with, "It was a fascinating experience" and shuts off a question about Elizabeth Taylor with "I donít speak about my friends.
"Iím not really interested in autobiography," he said. "My photography says it all."