From
How Green Was My Valley
to
Funny Lady
, with a long stopover on the
Planet of the Apes
.
That, in brief, is the celebrated path trod by Roddy McDowall during the past 35 years. Along the way he has become a movie star – and a movie authority, whose knowledge and experience have earned him a spot on the board of trustees of the world's largest filmfest.
McDowall does not grant interviews as readily as some more talkative performers, so it took a while to track him down at this year's Los Angeles International Film Exhibition (Filmex).
Eventually McDowall consented to sit in one spot for a couple of hours, and talk about the main subject of his life – the movies.
He began by praising Filmex for its refusal to give out awards to new films. "We're free of that rampage of winning this, winning that, winning the other." And he lauded "inventive, informative" festivals in general for spurring interest in films, "especially among the young and even the very young.
"Film is 75 to 80 years old. And it is a great art form, certainly the great art form of the 20th century, and the major American art form. It's only now that you can begin to draw upon the past ... Moreover, all our childhoods are wrapped up in some decade of being impressed and deeply, deeply influenced by a certain handful of people ... They have had a tremendous influence, good and bad, on our lives. And we have to delve into that …"
McDowall sees the movies as a unique phenomenon. "We are absolutely assaulted, inundated with entertainment, especially with TV … Children fall asleep to TV … But it's very difficult seeing films on TV … At retrospectives in theaters, younger people are overwhelmed at seeing (bygone stars) 30 times the size of life …" Despite his love of film, McDowall insists that he is not a "fan." He explains, "The word 'fan' disturbs me … It's a wrong word … maybe because it's been misused – it comes from the word 'fanatic.'"
What word does he prefer? "Let's just say I'm deeply interested in the world I live in. I have an educated knowledge of the world in which I've grown up, that's all …
"It's because of my mother, who was – a fan," McDowall laughs. "She was always absolutely fascinated by films and the great artists of the silent films … I used to go and see a lot of silent films as a kid. And I got to know, as a child, a lot of the people who were in silent films. This was absolutely wonderful – people like Richard Barthelmess and May McAvoy and Mae Marsh."
Silents are "misunderstood" today, says McDowall, because they are often shown at the wrong projector speeds or without their original color tints or without orchestral accompaniment.
"It's like listening to music. Your mind is making up so much of the dialogue …" Curiously, though, most moviegoers have paid little attention to silents since the 1930s.
McDowall feels that today's television artists should save their products carefully "because the same thing will happen." TV programs will come and go, "then, 20 years from now, everyone will be rushing around looking for
I Love Lucy
shows, which are fantastic. Those early
Lucy
shows were really quite remarkable.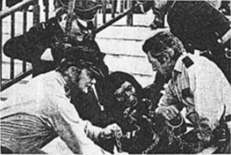 Roddy McDowall: As Caesar (above), suspected leader of the ape revolt in Conquest of the Planet of the Apes;

in his real life role of top amateur photographer (below) in a photo session with Barbara Carrera, who is modeling a costume from Embryo; McDowall is shooting for a fashion magazine.

And McDowall in 1967 (right) as a hippie band manager in The Cool Ones.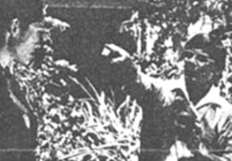 - - - - -
"But they're shown over and over again, and cut down. In a sense, it's understandable – in the moment when it's going on, a group of people don't realize that they are creating something more than just doing the work at hand. And if they did realize this, it would carry a pomposity that would make it something else again ..
"Take John Ford" – one of the great American filmmakers – "with whom I worked happily and whom I knew all my life. People would ask him questions about his work and he couldn't answer, because all he was doing was following his eyes and his mind, and it didn't have the same connotations as it flowed from him as it has for the viewer.