A friend of Roddy McDowall's once summed it up: "Roddy doesn't know anyone who isn't." To put it another way, Roddy knows everyone who is. Trying to interview Roddy at the Polo Lounge, I feel like a Rams defensive lineman harassed, without remission, by Minnesota Vikings. People Who Are are constantly bombarding our booth to say hello: Brenda Vaccaro, with writer Ken Solms, the John Greens, Peter Marshall and Lili Gentle.
"I'm absolutely the most enormous movie fan of all time," says Roddy. He is looking straight at you, holding you with enormous, concerned brown eyes behind silver-rimmed glasses. "The other day I went to see 'Eldorado,' 'Cool Hand Luke' and 'Gone With the Wind'," he told me some years ago. His moviegoing record: six films in one day in Boston.
Roddy is also absolutely the most enormous movie star fan of all time. He's a living Celebrity Register, an enlivened Burke's Peerage, a sort of Hollywood-based P. G. Wodehouse, resurrecting the Blandings Castles or the Mr. Blandings and Irene Castles of yore. "Mae West is a phenomenon," he'll say. "I'm really fascinated and very happy that my life is involved in meeting people like Mae and Noel Coward and Stravinsky and George Cukor. Where else can one find the distinction and attributes of George? How much he knows and how discreet he is."
There was also Gladys Cooper: "She was 80 when she died, one of the most marvelous friends I've ever had in my life." There are Barbra Streisand, Katharine Hepburn and Elizabeth Taylor: "My mouth drops open," says the friend and fan of the celebrated.
Designer-celebrity Edith Head calls Roddy "a combination of one of the most charming men I've ever met and also one of the most intelligent: super intelligent." Our industry's Renaissance woman, Ruth Gordon, once told a reporter: "Roddy has more friends than anyone else I know. I don't know anyone who has such a following, except maybe Queen Elizabeth." Director George Cukor explains: "The thing about Roddy is he's such a loyal friend. He is a friend to everyone. Yet he never lets you feel he's a better friend to someone else than he is to you."
Roddy has that rare quality , similarly, and even upon a chance meeting, of total absorption with you. Like any good actor, he listens and Roddy is a good actor. He works as steadily as any actor in Hollywood. His last released features were Fox's "Poseidon Adventure," in which he played the ship's steward, and "Legend of Hell House," in which he portrayed a physical medium. His latest movie is "Arnold," upcoming, a comedy-horror film which costars Stella Stevens. His most recent TV feature, "Miracle on 34th St.," will air this Friday on CBS.

A Put-Down of Self
If being with Roddy is a turn-on for others, it's also a series of sometimes unwarranted put-downs of himself. "I'm a terrible interview," he says. "I'm very private: I suppose that's part of it. The other part goes back years. When I grew up, it was with so many people who became famous. I know I'm not interesting; so many interviewers wanted to talk not about me but about people I know." The result, according to Roddy: "If I read something about myself I really get a sort of cold sweat. It has nothing to do with it being good or bad. It's the fact that it's there."

---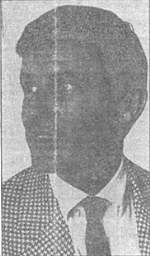 " I'm a terrible interview."

---

His privacy is there, and his kindness which is why no reporter has ever gotten a truly "colorful" quote from Roddy. Those who won't wound don't amuse. They have opted for zeal over levity. And McDowall is zealous, whether insisting to this reporter: "Please come to lunch, a nonworking lunch. I owe you a lunch," or insisting, after he won Broadway's Tony award for Best Supporting Actor in Anouilh's "Fighting Cock" in 1960, that he didn't deserve it.
Sobriety in Roddy doesn't preclude the fact that he is fun. As one might expect, The World's Greatest Movie Fan has an incredible collection of memorabilia. He has movie ads going back to 1930, and movie magazines dating to 1912. He has autographs from his child star days: He spent them writing fan letters to silent stars like Pola Negri. He has Marilyn Miller's silver cigarette box, inscribed to her after "Sunny" by George Gershwin. He has hundreds of stills from movies. He has a fantastic private film library, including that from the late Errol Flynn's estate, which he bought out.
Rex Reed described the apartment he used to keep on Manhattan's Central Park West as "a palace of trivia I have never seen so many dust-catchers." And then there is Roddy's fondness for trivia. "What film did Garbo make twice?" he'll ask his friends, and solve it: "'Anna Karenina,' as a silent and as a talkie." He's also invented movie games, like one which is played with stacks of filing cards: "You nominate movies, stars and producers and you meld," he explains. "For example, you meld Olivia deHavilland and Leslie Howard in 'Gone With the Wind' with Bette Davis and you have 'It's Love I'm After.'"
What Roddy was after once was the priesthood. He was born in London on September 17, 1928, the son of Thomas and the late Winifred McDowall. He made his debut at 8 in a British movie called "Murder in the Family": by 1940 after appearing in 15 films, he came to Hollywood. Darryl Zanuck had him under contract to Fox: he made his U.S. movie debut in "Man Hunt" in 1941. But it was the part of the Welsh boy, Huw, in "How Green Was My Valley," that brought him critical and popular acclaim.
"When I came here they said, 'What, little boy, would you like?' and all I wanted to be was to meet Bette Davis. So they took me to see her." It was when he entered Culver Military Academy that Roddy lost his desire to be a priest. Meanwhile, he appeared steadily on the screen with colts ("My Friend Flicka"), horses ("Thunderhead," "Thunder in the Valley") and dogs ("Lassie Come Home"). He served as associate producer and actor in a series of Monogram films, but objected to what he called "an unspoken conspiracy" against child stars growing up.
"I was playing 14-year-old parts until I was 23," he said, "simply because I'm bedeviled by looking younger than I am." In 1951, Roddy moved to New York to study acting. He took to TV and legitimate theater. He appeared in Shaw's "Doctor's Dilemma" at the Phoenix, as Octavius Caesar in "Julius Caesar" at the American Shakespeare Festival, as a Southern GI in Broadway's "No Time for Sergeants" and as Richard Loeb, in effect, in "Compulsion," which was based on Meyer Levin's best-selling novel about Leopold and Loeb. "Perfectly realized," wrote Walter Kerr of Roddy's performance as Loeb.

Years later, he left "Camelot," in which he played the wicked Mordred, to repeat the role of Octavius Caesar in Taylor/Burton/Harrison's and Fox's panoply, "Cleopatra." Meanwhile, Roddy had been developing as a photographer: in 1953, while doing the hit "Misalliance" at the City Center, he found he "had a lot of free time. I'd been using a box Brownie until then. It started as a hobby but it was very expensive as a hobby." His unofficial tutors included ace photographers Richard Avedon (Vogue, Bazaar) and Eliot Elisofon (Life). As a camera buff and confidante, Roddy photographed Hepburn-Tracy and Mia Farrow for Look, Sir Laurence Olivier, Mae West and Elizabeth Taylor for Life.
Playboy ran a controversial spread of Roddy's photos of Elizabeth. "I've never really spoken about it," says Roddy. "It wasn't very polite. They just took some flattering pictures and reduced them down to unflattering." In 1966, Delacorte published "Double Exposure," with portraits of the famous by Roddy and comments by celebrities on their peers. There were turnabouts: ("Tennessee Williams" by Gore Vidal, and "Gore Vidal" by Tennessee Williams) as well as expected and unexpected tributes ("Ethel Merman" by Sir John Gielgud, "Jack Benny" by cartoonist Charles Schulz).

Stars Are Different
Naturally, Roddy is good at glancing back. "I'd like to see those happily mature ladies like Myrna Loy and Caudette Colbert in the theater. The warmth, the star presence. In London they love it. Sadly, it doesn't go here." On the ephemeral nature of young film stars today, he comments: "I think there are still commanding young people. Streisand, Vaccaro, Susan Clark. If you go back to the 30s, the young people made film after film after film. Some they were good in, some they were bad in. Look at the number of films Betty Davis made—15 before 'Of Human Bondage.'
"Myrna Loy: 'The Thin Man' was somewhere in the area of her 50th film. She was a viable star before then, but that started another part of her career. If you say today 'They're good until their third picture,' how many people today get 15 or 50 pictures?
"Stars are different than superstars. Gene Tierney wasn't a superstar. She was so pretty. But if Gene Tierney was around today, she'd never have gotten 'Laura.' With any huge superstars Shirley Temple, Frank Sinatra, Barbra Streisand there's a fusion of material with the time. Something definitely needed. A star is someone who has accomplished acting ability Tracy, Muni. Some people, you don't care if they act or not. You just like to watch them.
"One hears conversations about whether one is bankable. Whether she's bankable or not, Gloria Swanson is still a star. As a child star, one of the things to get over is what people think you are as opposed to what you are. Superstars? George Cukor has a wonderful word I can't recall. It's sort of an inner strength and toughness to survive that out-of-bounds adulation which is not a compliment. It's hysteria, that's all. Look at Judy Garland at concerts. People used to throw all that neurosis at her. I don't know how these people survive."
Roddy McDowall will survive. As a friend and chronicler of "these people." As a private person who worships idols, but passes no judgments on their public mores. As a star himself, a star student who made the transition from child to adult.